Intelligent Positioning & Prevent Lost Flashlight
Introduction
With the speeding up of the process of aging population in China, lonely elderly exploded. Elderly have problems of athletic ability decline and memory loss. They often appear lost, fallen down, physical discomfort, etc. In these situation they need family member's emergency rescue. At the same time, for 2-14 years old underage children, they are easy to get lost. According to survey, 1 in every 80 families has suffered child lost unfortunately. Therefore, the requirement of positioning care and prevent lost track for elderly and children is very strong.
Find TA is based on OneNet and created as positioning care product for the elderly, children and other user groups. When people carrying Find TA, their guardian can achieve location check, remote recording, remote listening, SOS assistance, and other functions through mobile phone. This product ensure elderly and children safety and prevent lost, and is equipped with a flashlight to make this smart product more close to life.
Smart positioning flashlight (Find TA) is based on OneNet and has basic functions such as positioning, tracking, and prevent lost. It also has assistance functions such as sound record and lighting to ensure safety and prevent lost of the elderly, children and other user groups. Find TA mainly includes double core positioning, remote listening, one key SOS, electronic fence, multi monitor, history view, one key lighting, and other functions.
Double core positioning: Find TA build in GPS + LBS double core positioning chip, global seamless tracking, quick response in 30 seconds, with higher accuracy.

Remote sound listening: One key start 15 seconds listening through mobile client, know about environment of parents and children at any time.

One key SOS: When emergency happens, one key to send SOS message, automatically send voice record to mobile client, seize best opportunity of rescue.

Electronic fence: Customized security range. Once the elderly or children get out of range, mobile phone client immediately received cross-border reminder.

Multi monitor: One Find TA smart positioning flashlight can be bundled with multiple mobile phones. One mobile phone can also monitor multiple find TAs.
System Demonstration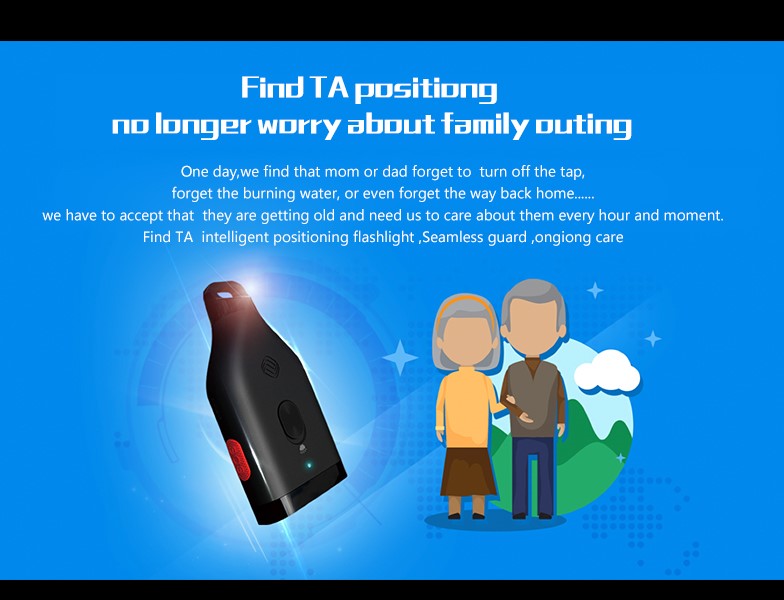 Application Value
Caring for the elderly and children is traditional virtue of the Chinese nation. Using Find TA smart positioning and prevent lost flashlight to give double guard and care to the elderly and children, always care for their travel security.